Isn't it about time my beloved Jenny got her own MIDI interface?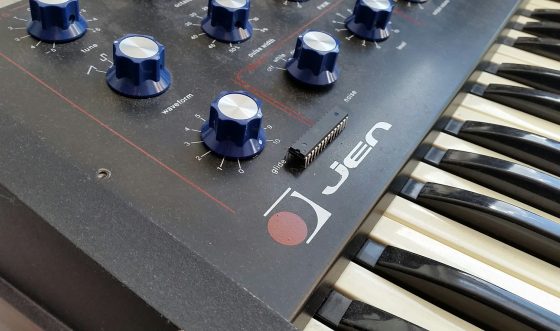 To be sure, microcontroller-based interfaces for the JEN SX-1000 do exist. Apart from the commercial CV/Gate solutions by Kenton, there is Neil Johnson's keyboard interface design. But even if you can get hold of the PCB – a supplier in the JEN SX-1000 group on Facebook had a batch made – the design has an intimidating parts list, and takes some serious time to build.
Is it possible to do it simpler? Emboldened by my success building a small Arduino-based MIDI controller, I decided to start a midification effort that is
easy to do (requiring only basic soldering skills, if any)
easy to get (by using components that you can buy on Amazon if you have to),
easy to develop (using standard solutions from the Arduino community),
easy to schedule (because the project is divided up into little steps, each of which is a small afternoon sub-project with instant gratification),
easy to participate (by contributing own ideas and code for parts of the project).
I will describe the basic layout of the MIDI upgrade kit project here. Each step, i.e. each sub-project, will then be treated in a new post, depending how fast I (or the community) get them done.