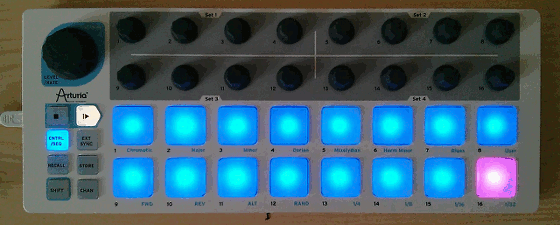 Nice. New. Toy. Arturia's Beatstep controller is a steal for 99 Euros – it just feels great. Large, solid pads, smooth, reassuring encoders. Did I mention there's a 16-step sequencer included? And a CV/gate interface? Must-have. I sold my QuNexus for this.
Just like the QuNexus, it is an ideal extension for iPad music. And just like the QuNexus, Beatstep needs to be programmed via a controller program to work. At least Arturia had the common courtesy to include a Mac version of the controller software, still it is a nuisance for iPad users like me that they have to use a computer just because one key sends the wrong note and triggers the wrong event.
So I thought about building a small controller panel for TB Midi Stuff, the same app I used for my Matrix-1000 controller. A bit of work with the controller software and a MIDI monitor gave me what is needed for that: the Sysex codes to control the Beatstep's behaviour. May be some time until I get round to building that panel, in the mean time there you are. You'll find the very first version of my iPad Beatstep Tool for download in the TB Midi Stuff forum. No, don't thank me, Arturia.
Anyway, here's the MIDI command table for the Beatstep, in case you want to do your own programming.
V1.3, last update 10 November 2016, with lots of additional info by Richard Wanderlöf.