Was der untergeek wusste: Dass Computerspiele entwickeln ein verdammt hartes Geschäft ist, mit Risiken wie sonst nur in der Filmindustrie. Was der untergeek auch wusste: Dass der Iran neben seinen rückwärts gewandten Gläubischen auch überproportional viele Netzbürger hat und hervorragende Programmierer. Was der untergeek nicht wusste: dass der Iran auch eine eigene Spieleindustrie hat – mit sehr eigenen Problemen.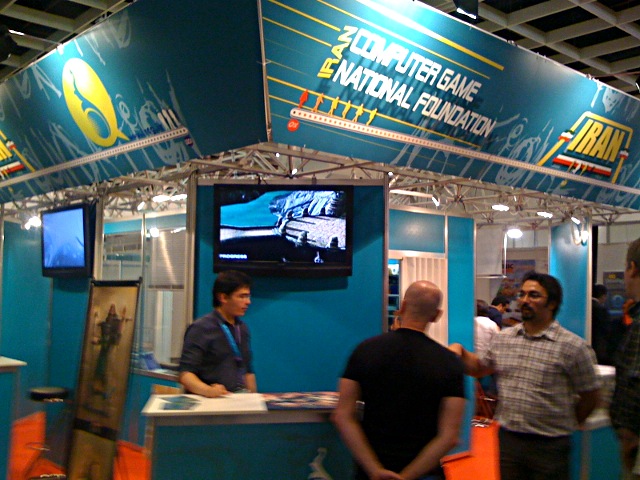 Wer Prince of Persia 3D mochte, wird auch Quest of Persia mögen – soweit man das vom Trailer her beurteilen kann: Da sehen Charaktere und Bewegungen doch sehr vertraut aus – und sehr Nineties. Okay, die Engine ist nicht mehr up to date, das wissen wir auch, sagt mir der freundliche Entwickler von Puya Arts Software am Stand des Verbands der iranischen Spieleindustrie; für die nächste Produktion bauen wir eine moderne Engine ein. Aber die alte Engine hat eben nicht viel gekostet; und dann erläutert er mir die ganz besonderen Herausforderungen für seine Branchenkollegen im Lande.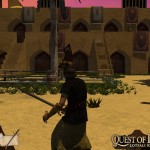 Nein, nicht die Zensur. Eher verständnislos sieht er mich an, als ich frage, ob Computerspiele für den Geschmack der Theokratie nicht zu verwestlicht wären. Das Problem ist ein anderes: Ein Spiel wie "Quest of Persia" kann Puya Arts für 6 Dollar 50 auf den Markt bringen. Und dann konkurriert es dort mit den Spielen, die auch bei uns über den Tisch gehen; mit – sagen wir mal: dem Assassinen-LangweilerBlockbuster aus Kanada. Für 1 Dollar.
Die iranische Regierung hat da nämlich diese Politik gegenüber Markenpiraten und Raubkopieren. Das alles interessiert sie nicht, solange nicht einheimische Waren betroffen sind. Würde jemand anfangen, in großem Stil unsere Spiele zu kopieren, könnten wir ihn aus dem Verkehr ziehen lassen, berichtet mein iranischer Gesprächspartner; für die Ware der großen Internationals trifft das nicht zu.
Was dann eben leider auch heißt, dass die hoffnungsvollen Nahost-Entwickler nicht recht konkurrenzfähig sind.
Wer möchte, kann das zweite und englisch lokalisierte "Quest of Persia" übrigens hier online erwerben. Demo hier. Bisher verkauft es sich, sagt mein Gewährsmann, mäßig.