A tutorial for using the Novation Launchpad Pro as a synth keyboard.
What this is about
Last summer, I borrowed a Launchpad to take along on my holiday, and fell in love with it. The Launchpad is a new instrument; you have to relearn the movements of your fingers. These considerations and patterns are supposed to make learning easier.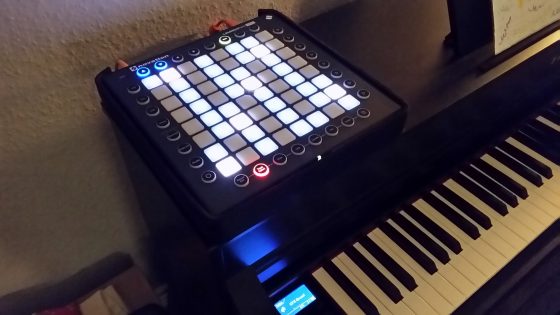 I am not much of a musician, nor do I know that much musical theory. The few musical skills I use these days are mostly self-taught. When I started discovering synthesizers, I got myself a table of the basic minor and major chords and their inversions. This helped me produce the first harmonies, just like someone learning the first chords on a guitar.
There are different possibilities to use the Launchpad Pro as a keyboard. I'll focus on most accessible layouts. There may be other, better, layouts, especially for dedicated scales, which I will not dive into (because I still have to get to grips with the first layout).
I am also ignoring the theoretical possibility to use the buttons around the 8×8 pad grid as well; this is all for playing notes on the 8×8 pad grid only.
"Note Mode" – Chromatic fourths, five-column layout
This is the default keyboard mode for the Launchpad Pro: It is what you get when you press the "Note" key using it with Ableton Live, or what it shows when used as a standalone MIDI controller. I must admit that I have trouble getting my head wrapped around it, for reasons described below.
Layout basics
As you know, a chromatic scale in Western music (i.e. the basic pattern for playable notes) consists of 12 half-tone notes per octave. The Note Mode wraps these 12 notes around 5 columns, which gives you 40 notes – actually 43 – which is a little bit more than three octaves. The remainder of the Launchpad's 64 pads are used as wrap-around padding, "overlap" in Novation parlance – meaning that 21 notes are mapped twice, to two pads  each.
5 columns means: Pressing a pad, and the one directly above it, gives you a fourth interval – hence "Chromatic Fourths" layout. (It is similar to the standard tuning of a guitar, where the first four strings are also tuned in fourths.)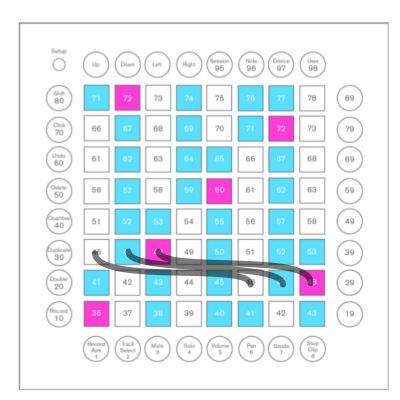 The five-column layout means that you have to play scales and chords in variations depending not only on the chord/scale you play but also on the octave you are in – a C1maj chord and a D1maj differ in fingering, a C1maj chord is played differently from a C2maj chord. To cut down on these variations and make playing runs easier, the five columns are padded as described above – three extra keys per row allow you simply to shift a pattern to the right instead of wrapping it around.
Thanks to the padding, you can now use the very same finger pattern for a major chord over the foundation note C2 as for the C1maj chord. Unfortunaly, three notes overlap is not enough: chords and scales with a foundation note in the fifth column still have to be wrapped around. Which means that you have to learn two variations of every chord or scale pattern – one shifted, one wrapped.
Lost? Stay with me, it all gets clearer in a moment.
Playing scales
A major scale is pretty simple, just follow the scale pattern from the "C" note:
[table id=5 /]
As on the piano keyboard, you just get to a natural minor ("Aeolian") scale by starting on the sixth note:
[table id=7 /]
Playing chords
Base major chord:
[table id=2 /]
1st chord inversion – please note that due to two notes sitting in one column, there are only two possible variations:
[table id=3 /]
2nd chord inversion – please note that due to two notes sitting in one column, there are only two possible variations::
[table id=4 /]
The same for minor chords – base, 1st and 2nd inversion. The base note of the chord is marked in dark blue in the inversions:
[table id=6 /]
The Cheat Sheet
A PDF version of these graphics can be found here.
User Mode, Scale Mode – "Chromatic Maj3rds" four-column layout
I noted above that to me the "Note Mode" is somewhat counter-intuitive, so I looked for alternative modes of play. When you search for Launchpad tutorials, you come across a discipline called "Launchpad covers" – the performer takes an EDM hit from the charts, chops it up in Ableton Live, arranges the samples to be played on a Launchpad, program the sequences to a MIDI lightshow, and film yourself triggering the sequences.
Lightshows and Launchpad covers use a different layout – the "User Mode".
Layout basics
"User Mode" is similar to the "Drum Mode" and does not use the five-column, "Chromatic 4ths" layout with padding, but a four-column, "Chromatic Major 3rds" layout without padding, organized in two pillars.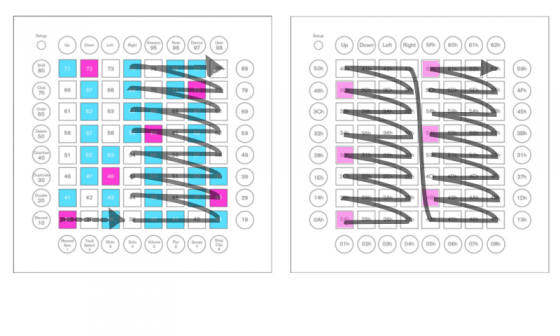 The User Mode layout has the huge advantage of being much more regular and repetitive: the 12-note chromatic scale does not shift over the whole width of the pads but repeats itself every three rows, with the foundational C note always in the leftmost column. This means that you have to learn only four sets of basic chord and scale patterns – one for each column.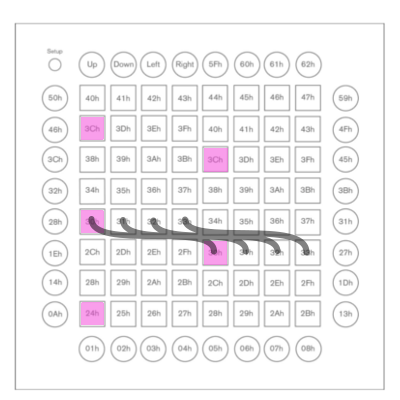 There is an even easier way – set the Launchpad Pro to a four-column layout with a repetitive padding of four. In 2016, Novation introduced a "Scale Mode" update which enabled to set the launchpad to a scale (documentation here – PDF). Press Shift+Note to set Scale Mode and press the green pad in the upper right corner to activate it, then select the fourth pad in the top row – to select an overlap of four – and violet pad no. 16, that is the rightmost pad in the second row, to select a chromatic scale. If you press Note now the Launchpad is set to a chromatic scale with an padding ("overlap") of four columns, which basically gives you the same thing as the User Mode – without having to adjust for the wrap-around when transposing chords and scales. This layout offers perfect symmetry over two octaves, meaning that  You can play the same pattern from each basic note now.
Although the four-column, four-overlap layout gives you only 36 notes, it has the additional advantage that almost every key is doubled – which makes marimba-style playing with two fingers/hands for the same note/interval much easier and more natural.
…but I won't dive into that yet.
As noted above, I am quite busy getting to grips with the "Chromatic Fourths" layout. So that's it for the moment.
Verwandte Artikel:
Give me a hand: Looking for the perfect iPad Beatbox companion (Tuesday, 30. July 2013; Schlagworte: Ableton Live, Beatbox, DAW, iPad, Launchpad, Loopy)
Homebrew MIDI Companion Controller for my Launchpad Pro (Wednesday, 9. August 2017; Schlagworte: Arduino, Launchpad Pro, Midi, MIDI Controller, MIDI Merge, Modwheel, Pitch Bend)
V2.0: A Teensy-based MIDI Controller (Thursday, 14. September 2017; Schlagworte: Arduino, Launchpad Pro, Midi, MIDI Controller, MIDI Merge, OLED, OLED library, Pitch Bend, scale2x, Teensy)