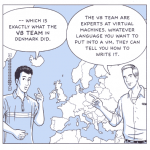 Mattias hat in seinem Blog einen Wettbewerb ausgelobt: wer schreibt die schönsten Sprechblasen für eine historisch reichlich unsensible Seite aus dem Googlebrowser-Comic? (Gar nicht schlecht, wenn man bedenkt, dass die Idee ursprünglich aus 4chan stammt… — Link SFW.)
Hier der bescheidene Beitrag eines heute unkreativen untergeeks, der Originalität durch Referenzen auf Fawlty Towers und Blackadder ersetzt:
Larry: "Now I'm the last person to mention the war but I guess there's a lesson to learn for Google from Denmark…"
Hans: "…given that Google's market share is 10 points low there. Ha ha – ve vill finally get se hang of your humour, was?"
Zweiter Anlauf:
Larry: …which is exactly why we did Denmark.
Hans: Googlers are experts at world domination. Redrawing the world map in seconds. In cyberspace, no one can hear you cry.
Offtopic: mich erinnert das Chrome-Logo nur an meinen Senso.