Bob Grieb's brilliant firmware rewrite for the Matrix-6 and Matrix-1000 machines has been in testing for some time. The code seems to be running fine and is definitely a huge improvement: Matrix-6 owners will gain a machine that is much more responsive, and has been ridded of a couple of nasty bugs. And even for Matrix-1000 owners that have been using GliGli's v1.16 patches, the new software offers, in my humble and slightly biased opinion, great advantages.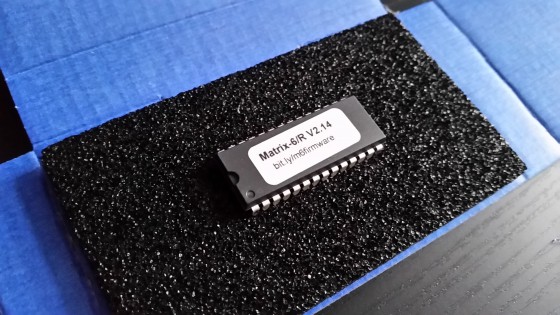 Bob has started shipping EPROM chips containing the new code to people who do not have an EPROMMER available, and I've agreed to doing the same thing over in Europe. The price for the update is €25 plus shipping,this contains a payment to Bob as a recognition of the endless hours he spent in analysing and rewriting the code.
You can find a first batch of Matrix-1000 update PROMs on eBay, as well as update PROMS for the Matrix-6 and 6R – if they are gone, just follow one of the links below – there are order forms at the end of those pages.