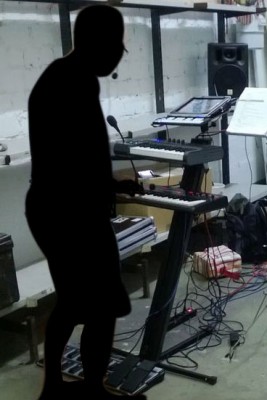 I love Loopy. The nifty little looper program by this mad Australian guy has become the fourth member in our little band project; it looks gorgeous, it works flawlessly, and it's so simple to use: Just load any rhythm loop into Loopy, auto-stretch the sample to time, record additional audio or loop live, switch between loops with MIDI PC commands – which my FCB1010 foot controller is happy to supply.
You need additional tools, though. Loops coming from my favourite beatbox have to be post-processed for dynamics and overall punch. And playing around with the free Launchpad app by Novation got me thinking. What Loopy doesn't do, though: just trigger loops and samples. And songs have to stick to a very rigid timing grid, normally 4 bars; otherwise you'd switch loops just in the middle of your chorus track.
Organic Proto-Beatbox Band
Why bother? Why not just use Ableton Live or, if you want to spare yourself having to drag a laptop around, buy some dedicated hardware? An Akai MPC, a Roland SP-404, an Electribe, or: Bloody hell – just use whatever sampler groovebox you like.
Which is what I'm going to do, only that I'd like to buy it as an app. Everything stays in my iPad, another advantage being that due to perversity of the app store economy, software is usually a fraction of the price of more traditional solutions. (Which is why we will probably never see an iOS version of Ableton Live.)
So just pop over to the app store and just find a sample-based, loop-based beatbox app. Can't be that hard to do, no? It is. A friendly way to describe the abundance of music apps would be "very rich organic growth". So many programmers and small companies have started their own music apps, which is a great thing. Sadly, hardly any of them get it right.
Looking for the perfect companion
It's easy enough to name what I am looking for:
A simple live-playing mode similar to Ableton Live or an MPC
Different trigger modes: one-shot and loop-based
Ability to import and export loops
Time-stretching
App has to work in the background
Has to be controllable via MIDI
On top of that, Audiobus. And a couple of simple processing tools would be nice.
Google didn't help much. So I started a table, which is far from comprehensive, but I'm opening up it for you to supply additional information.
This is what has been found so far:

My favourites so far? Most apps by traditional music hardware manufacturers seem to be severely limited, their main object being a marketing tool for in-app purchases. I'd go for Protein Der Klang, but it doesn't have MIDI. So I'd settle for Beatmaker although I fear that it is too large and too complex.
So if YOU'd like to give me a hand, and know a thing about beatboxes or two, help to make this table useful by supplying additional info. (Just follow this link to the Google Doc). I suggest keeping discussions and opinions to the comments (in the table and in this post) and keep the table to facts-only.