Wouldn't it be nice if you had a controller for every aspect of this thing?
I own a new synth, and you may say that is, once again, Bob Grieb's fault. The ingenious engineer has just improved another classic analog machine, Sequential Circuit's Prophet 5 –
he rewrote the firmware to fix MIDI bugs, added a few controls like Unison detune and diagnostics
for V3.3 Prophets with MIDI – and while getting an original P5 is out of the range of mere mortals like me, I started dreaming of this thing: Creamware's "Pro-12 ASB" expander. The rack-sized tabletop
faithfully
emulates the old circuitry with more recent DSPs, with a few crucial improvements, and it follows the same "One parameter, one knob" philosophy as the original Prophet.
Unfortunately, some of the very improvements on the original sound engine found no room (and no knob) on the machine, one being the ability to set an inital value and range for mod wheel-controlled LFO, another being the effects of Channel Pressure commands (i.e., aftertouch) on the sound.
The Pro-12's manufacturer Creamware has long gone out of business, presumably not totally undeserved, so there will be neither an improved firmware allowing for second-level hardware control, nor, for that matter, a version of the control software that runs on anything more recent than Windows XP or Mac OS X 10.2. (I did get it to run on an emulated Win7 machine, but the – enormously friendly – support people at Creamware's unwilling corporate heir Sonic Core are very, very clear on that: Do not do an update under anything other than Windows XP. So I created a virtual WinXP machine for that, and the update went well.)
So I made a control panel for the TB Midi stuff app on the iPad to complement the hardware – it contains all the hidden settings but does not duplicate the hardware knobs.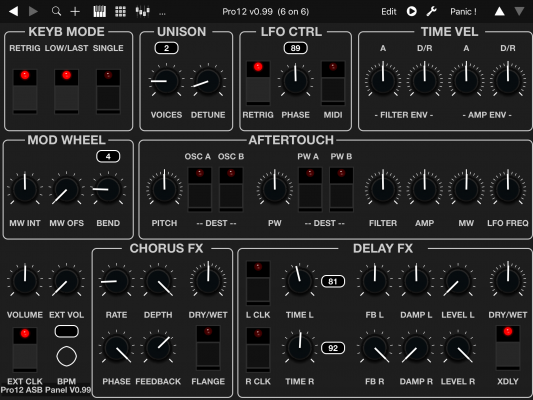 One nice thing about the Pro-12 ASB: Every parameter has its dedicated MIDI CC controller number, and whenever a patch is selected, the machine sends every one of them as MIDI CC. This means that the TBMS panel will show the actual settings, not only control them.
You can download the TBMS panel from the TBMS forum. Please give me feedback and report bugs.
Coming up next:
An Arturia Beatstep preset
A controller template for my Novation X-Station
Verwandte Artikel:
Taming Arturia's Beatstep: Sysex codes for programming via iPad (Saturday, 22. November 2014; Schlagworte: Arturia Beatstep, iPad, Midi, programming, Sysex, TB Midi Stuff, tool)
Matrix Modulation control included: iPad editor for the Oberheim Matrix-6/1000 (Wednesday, 30. April 2014; Schlagworte: Controller, Editor, iPad, Matrix-1000, Matrix-6, modulation matrix, Oberheim, TB Midi Stuff)
There is a true Oberheim Matrix editor for iPad now. And yes, it's worth buying it. (Friday, 26. June 2015; Schlagworte: Editor, iPad, Matrix-1000, Matrix-6, Oberheim)