"It was the best of machines, it was the worst of machines."
Wie jeder Geek erhalte auch ich meine Arbeitsfähigkeit und damit meinen Wert für die Gesellschaft mit Drogen: in meinem Fall sind das unter anderem möglichst kindische Computerspiele und frisch gebrühter Kaffee. Und wie jeder Geek weiß ich, dass Kaffeemaschinen einen miesen Humor haben.
In meinem Fall erwies sich das am Büro-Kaffeevollautomaten, einer älteren, kackbraun-hässlichen Maschine vom Typ Saeco Vienna, die aber über alles Notwendige verfügt. Kaffeemühle, E61-artige Brühgruppe mit Vorbrüh-Funktion, Sensoren, Prozessorsteuerung. Die Maschine war die Spende eines Kollegen und tat ihren Dienst, bis es eines tages hör- und riechbar knallte und sie dahin war. Nun, selbst ist der Geek: ich also wochenends in meine Arbeitsstätte, das Ding demontiert, weggedampfte Leiterbahnen nachgelötet, die verklemmte Kaffeemühle demontiert und gereinigt, alles wieder zusammengeschraubt – und dann aufgegeben, als die Maschine immer noch nicht wollte. Noch mehr Aufwand wollte ich nicht investieren, zum einen weil es sich nicht lohnte, zum anderen, weil mir meine Liebste sehr deutlich zu verstehen gegeben hatte, dass sie einer weiteren zerlegten Maschine auf meinem Schreibtisch eher skeptisch gegenüberstünde.
Macht nichts: Ersatz beschaffen ist doch viel einfacher als bis zum bitteren Ende reparieren. Also bei eBay eine neue alte Vienna geschossen – generalüberholt und trotzdem äußerst bezahlbar. Das Ding kommt an, brüht genau eine Tasse – und gibt dann nur noch Tröpfchen von sich. Wie gesagt: Kaffeemaschinen haben einen miesen Humor.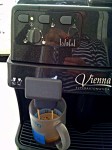 Um's kurz zu machen: Maschine läuft, Kaffee läuft. Aus diesem Anlass möchte ich hier gerne eine kleine Einsteiger-Anleitung zur Demontage und Reparatur einer Saeco Vienna anbieten – mit einigen im Lauf der Zeit zusammenrecherchierten Tipps und Unterlagen. Continue reading →