Not too long ago, I wrote a rant about how music software on my iPad didn't really live up to its promise: the developers tended to get little things like MIDI wrong, apps wouldn't work together, designs were flawed. But this is the brilliant thing: you can see the software mature. Most of the things that drove me mad then just is gone now, and all this in less than a year. The software is growing up.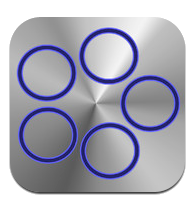 Even more brilliant is this: You've got some question, or some idea, or some issue, so you go to the developer's forum and let off steam. And they listen, and they reply. Almost instantly. Even though the guy that answers may be some  lone code warrior who does all his coding (and his customer service) from a mobile home he's traveling the world in – you will get help. You may even, after posting some especially ludicrous ideas, find yourself being beta tester for a smart little thing like Audulus.
Modular Madness: Building Blocks for Music Nerds
Audulus is a software representation of a modular synthesizer, basically the electronic musician's Lego: Instead of a monolithic device, you have little bulding blogs you can wire and rewire any way you like. Well, modular synths are nothing new, not even in software; I ran into Audulus some weeks after learning about the open-source modular synthesis system PureData.
What drew me to Audulus was it's elegance, and its natural usability in the iOS environment. (Although, originally, Audulus is a native Mac OS X app.) And it looks gorgeous.
To be frank: for me, Audulus now is more of a brilliant toy rather than your everyday universal tool, but it will be one day – you can see it grow. It just got Audiobus support, so now you can wire up your own custom effects module. (You'll find some extremely weird examples in the Audulus forum.) And in the upcoming 1.9 release which I had the honour to beta-test, you can build your own custom modules, or "nodes", as they are termed, and re-use them wherever you like.
Ah, and you get a shiny new patch browser.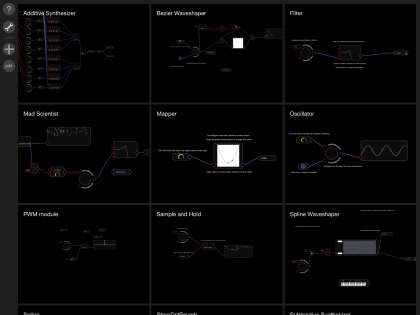 It's extremely satisfying to see a great project on the move.